Last Updated on January 20, 2023 by Jerardo Gomez
If you're looking for a unique getaway and beautiful escape from the hustle and bustle of everyday life, look no further than Monterey and Carmel. Located on California's Central Coast, Monterey and Carmel-by-the-Sea are perfect gems to go on a day trip or weekend if you are from California. From shopping and wine tasting to beaches and spas, there's something for everyone in Monterey and Carmel. Whether you're looking for a romantic getaway or an adventure with friends, this area will be a good time.
I will be your travel guide for what I think is the best itinerary for Monterey and Carmel. If you want to maximize your time in both towns, I recommend spending at least a day in each but if you don't have the time, then you can definitely split both towns in one day as they are really close to each other. This is also kid friendly, dog friendly, and solo travel friendly.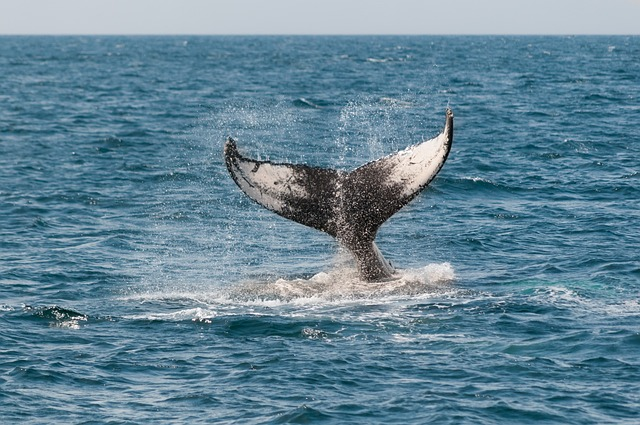 *Disclosure: I only recommend products I would use myself and all opinions expressed here are our own. This post may contain affiliate links that at no additional cost to you, I may earn a small commission. As an Amazon Associate, I earn from qualifying purchases at no cost to you.
Starting Your Trip
*Pro Tip* If you want to save money then plan ahead by doing these things:
Prepare food and drinks with you such as snacks, lunches, water and meals. Food here is expensive so you can save money by bringing food.
Look for discounts and coupons online. Before booking any activities or tours, do a quick search for discounts or coupons that may be available. Many attractions offer discounted admission prices or free days throughout the year, so it pays to do your research.
Take advantage of free activities. There are plenty of free activities in Monterey Bay such as exploring Cannery Row & Old Fisherman's Wharf, 17-Mile Drive, Point Lobos State Natural Reserve, and Big Basin Redwoods State Park – all of which offer stunning views and plenty of opportunities for outdoor exploration without spending a dime!
Consider carpooling with friends or family if possible. Gas prices can add up quickly when driving long distances, so consider carpooling with friends or family if possible to save money on fuel costs.
Where to stay in Monterey
If you want to stay at a nice place then I recommend Portola Hotel & Spa. The Portola Hotel & Spa at Monterey Bay is a 4-star hotel located in Monterey, California. It features a full-service spa, fitness center, and outdoor pool. The hotel also offers a variety of dining options, including a restaurant and a lounge. Guest rooms are equipped with modern amenities such as flat-screen TVs, complimentary Wi-Fi, and mini-fridges. The hotel is located near many popular attractions, including the Monterey Bay Aquarium and Cannery Row. Overall the hotel has good reviews and a good reputation in the area.
I don't recommend staying at anywhere cheap here but if you are just looking for a place to stay that is cheaper then the Colton Inn is the next best option.
Day 1: Monterey
Getting to Monterey should definitely be the first destination and I would recommend everyone to go to the world-renowned Monterey bay aquarium. Parking can be mildly difficult but you can find street parking in many areas and streets a few blocks away.
The Monterey bay aquarium is something that I recommend everyone to attend. Prices are high at 59.99$ for adults and cheaper for minors but it goes to many programs to conserve and rehabilitate marine species. It takes about 2-4 hours to get through the whole aquarium as there are over 800 different species and 75,000 animals. It is the only aquarium to have certain species such as bluefin tuna and sunfish. I personally loved it and the activities they offered throughout my time there, and their gift shop is so cute.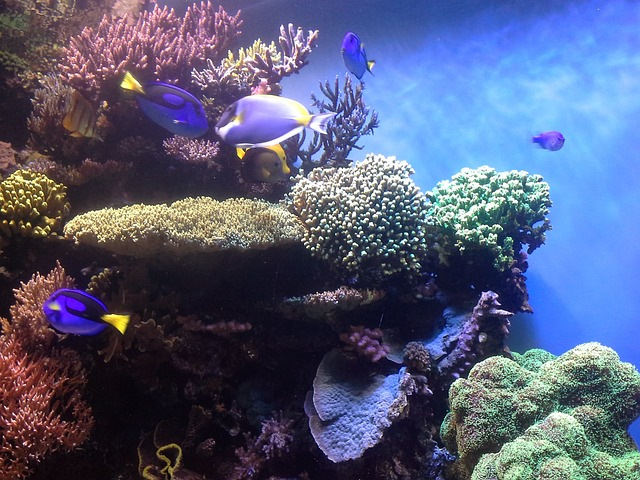 Visit Cannery Row 1:00 PM
Cannery Row is the waterfront street next to the aquarium. This scenic street town offers a variety of options for all types of visitors, with something for everyone to enjoy. From shopping and dining to exploring the ocean nearby, you can make an entire day of your visit to Cannery Row. Here are some of our top recommendations:
Shopping: With its variety of shops, boutiques, galleries and specialty stores there's something for everyone on Cannery Row. Whether it's jewelry, souvenirs or clothing you're looking for, you're sure to find unique items from local vendors at great prices. Stand-out is Ghirardelli Ice Cream & Chocolate Shop and The Pebble Beach Outlet Shop.
Dining: From seafood to Mexican cuisine and everything in between, Cannery Row has a restaurant for every type of taste bud. Popular restaurants like Old Fisherman's Grotto offer some of the freshest seafood around and other establishments such as the Ghirardelli Chocolate shop satisfy sweet cravings. There is also a Bubba Gump Shrimp restaurant here as well.
Activities: From kayaking and sailing to whale watching tours. The area is also home to several beaches and parks if you want to relax and enjoy the natural beauty of Monterey Bay.
Lovers Point Beach 3:00 PM
Lovers Point Beach is a beautiful beach located on the Monterey Peninsula in California. The beach offers stunning views of the Pacific Ocean, as well as a wide variety of activities to take part in – from swimming and kayaking to walking and flying kites. Even if you're just looking for some relaxation, Lovers Point Beach has something for everyone.
The beach itself is secluded and picturesque, with plenty of sandy shoreline and room for sunbathing. There are also plenty of amenities nearby such as shops, restaurants, and even a boardwalk area.
Its a kid and dog friendly beach where the water levels by the shore are low. This would also be a great place for a picnic lunch as there is a park nearby.
Old Fisherman's wharf 5:00 PM
Old Fisherman's Wharf in Monterey, California is a popular tourist destination and historical landmark. Located in the heart of Monterey Bay, the wharf stretches out into the bay and offers stunning views of the Pacific Ocean and the surrounding area.
The wharf has a rich history, dating back to the late 1800s when it was first built as a hub for the local fishing industry. Fishermen would bring in their catch of the day to be sold at the wharf's fish market, and it quickly became a bustling center of activity. Over the years, the wharf has undergone several renovations and expansions, but it has managed to maintain its historic charm.
Today, Old Fisherman's Wharf is a popular destination for visitors to Monterey. It is home to a variety of restaurants, shops, and other attractions, including a marine mammal center and a historic museum. Visitors can also take a boat tour of the bay, go fishing, or simply enjoy the scenic views. The wharf also has a lively atmosphere, with street performers and live music often playing. It is a great spot for a stroll, to grab a bite or to enjoy a sunset. There are many great things around the wharf such as nice restaurants, cafes, and accommodation. These charming towns in the coast remind me of San Diego.
Highlights: The clam chowder in this town are famous and I have found the best right here. Many restaurants have someone sampling out chowder for you to try. I did try all dozen different kinds but you have to go to find your favorite. The sea otters definitely make this atmosphere also feel like you are in Monterey County.
Other Things to Do in the Monterey Bay
Mission San Juan Bautista – One of the first missions in California. Founded in 1797 by the Spanish before California was a state or the US.
Watch marine life
Go to golf courses
watch the waves crashing all along the beach
Go to antique shops
go to salinas valley for fresh fruit and vegetables
Find sea lions
Pacific Grove beaches
Explore out of Cannery Row to different streets and Victorian Homes
Day 2: Carmel-by-the-Sea
Carmel-by-the-Sea is a small coastal town located in Monterey Bay. It is known for its beautiful sandy beaches, art galleries, state park, and high-end shops. The town is also home to many artists and writers and has a strong sense of community. The famous 17-Mile Drive, which winds through picturesque neighborhoods and offers stunning views of the Pacific Ocean, starts just outside of the city. Additionally, The Mission Ranch, a working ranch and inn owned by actor Clint Eastwood, is also located in Carmel. It is a popular tourist destination and is known for its natural beauty, culture and history.
When you get there you will notice the most notable architectural features in Carmel is the use of irregularly shaped, natural materials such as stone and wood in the construction of buildings. This gives the city a rustic, natural feel and helps it blend seamlessly into the surrounding landscape.
There are also many historical buildings in Carmel, including the old adobe homes that were built by the city's earliest settlers. These buildings have been carefully preserved and are now used as museums, shops and other visitor-friendly facilities.
17 Mile Drive 8:30 AM
The 17-Mile Drive is the absolutely stunning drive between Monterey and Carmel-by-the-Sea that winds through the picturesque neighborhoods of Pebble Beach and Pacific Grove, California. The drive is so named because it is 17 miles long and takes visitors past some of the most beautiful and iconic landscapes in the region, including rocky cliffs, sandy beaches, and lush forests.
The drive starts by passing by several famous landmarks and attractions, including the world-renowned Pebble Beach Golf Course, the historic Spanish Bay Resort, and the famous Lone Cypress Tree. Drivers can also spot sea lions, otters and various bird species along the way.
The 17-Mile Drive is also home to several famous mansions, including the famous "Hearst Castle," which was built by the media tycoon William Randolph Hearst in the 1920s and 30s. The Castle is open for tours and visitors can explore the grand halls and gardens of this historic residence.
In addition, its also home to a number of restaurants, hotels, and shops, making it a popular destination for tourists and locals alike. Visitors can drive the 17-mile route or choose to bike or hike along the scenic path.
Point Lobos state park 9:00 AM
The park is known for its stunning natural beauty, featuring a diverse range of landscapes including rocky cliffs, hidden beach, and lush forests. The park is also home to a wide variety of plant and animal life, including sea lions, otters, and a variety of bird species.
Point Lobos is a popular destination for outdoor activities such as hiking trails, swimming, and snorkeling. The park located in the Central Coast has several hiking trails which is the start of Santa Lucia Mountains that offer amazing ocean views and the surrounding landscape, including the famous "Whaler's Cove" trail, which takes visitors past rocky coves, tide pools, and beautiful vistas. Visitors can also swim and snorkel in the park's clear, blue waters to explore the marine life.
I recommend coming here for a picnic lunch to enjoy point lobos state park. You can also find hiking trails here such as Bird Island trail. Some of the things you can find here is sea otters, hidden beaches, tide pools, China cove, jellyfish, rocky coasts, and other hidden gems.
Ocean Avenue in Carmel by the Sea 11:00 AM
Ocean Avenue is one of the main streets and runs parallel to the Pacific Ocean. It offers a variety of shops, restaurants, and other businesses, as well as easy access to the beach. The street is lined with beautiful Mediterranean-style buildings, many of which are adorned with colorful flowers and lush greenery found no where else in California.
One of the most notable features of Ocean Avenue is the wide variety of high-end shops and boutiques that offer everything from designer clothing and jewelry to art and home decor. Many of the shops are housed in historic buildings, adding to the street's charming atmosphere. Its also home to a number of excellent restaurants, cafes, and bars, offering a wide range of cuisines and dining experiences. Visitors can enjoy everything from casual seafood and sandwiches to gourmet meals and fine dining. Look for hidden gems in this cute town.
The main street also offers easy access to the famous Carmel Beach, which is just walking distance from the town to the California Coast and offers a wide expanse of white sand, clear blue water and a picturesque view of the Pacific Ocean. The beach is a popular spot for sunbathing, swimming, and other beach activities.
Carmel Mission Basillica 3:00 PM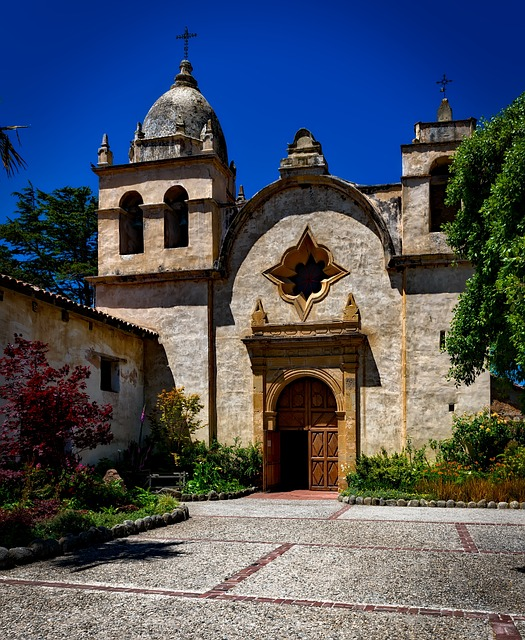 This is a must thing to do in Carmel. The Carmel Basilica is a historic Roman Catholic church was built by the Spanish in the early 20th century, and is a beautiful example of the Spanish Colonial Revival style of architecture, with its white stucco walls, red-tiled roof, and twin bell towers. The Basilica is a major landmark in the town and is known for its beautiful stained glass windows, intricate tile work and colorful frescoes but there is many stories to discover here your self in the free museum.
The story of the Carmel Basilica begins in the late 1800s when a group of Catholic settlers arrived in the area and began building a small chapel on the site. The chapel was expanded over the years, and in the early 1900s, the current church was built to replace it. The construction of the Basilica was a major undertaking, involving a large number of skilled craftsmen and artists who worked to create a beautiful and unique place of worship.
The church has been a spiritual center for the local community for over a century and continues to be a popular destination for visitors and locals alike. The Carmel Basilica is also home to a number of important religious artifacts, including a statue of the Virgin Mary that is said to have miraculous healing powers. The Basilica is open to the public for daily mass and visitors can admire the beauty of the building and the art inside.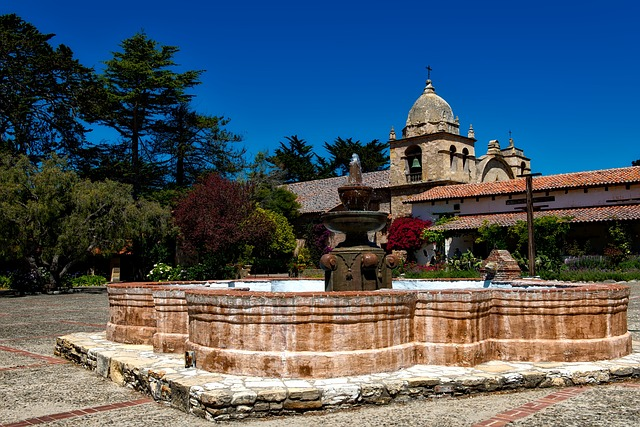 Carmel Beach – Sunset
Hike through Carmel River state beach, find a secluded beach, and watch the waves crashing.
In conclusion, Carmel and Monterey are two unique California destinations that offer a wide range of activities, attractions, and experiences. Whether you're looking to explore the outdoors, take in the historic charm of downtowns, or sample some of the best food the area has to offer – there's something for everyone in this beautiful coastal area! So make sure you plan your itinerary accordingly and make some time to discover all that Carmel and Monterey have to offer! If you like this article check out my Big Sur Itinerary blog here.
Additional Things to do in Carmel by the Sea
Visit local state park
Visit Big Sur to explore the central coast
Kayak to Bird island
Wine Tasting
Pebble beach Golf Course
See Monastery Beach
See Lone Cypress
More Things to do in Carmel and Monterey
What to do in Monterey and Carmel?
Go on a lighthouse tour

There are many lighthouses along Monterey-Carmel to Big Sur Coastline such as the point sur lighthouse

See Big Creek Bridge
Bixby bridge
Explore the Houses of Pacific Grove
McWay Falls
Pfeiffer burns state park
Explore Santa cruz beach boardwalk
Big Sur day trip
Bike from Monterey and pacific grove
Julia pfeiffer burns state park
Asilomar state beach
Drive to San Francisco
Pfeiffer beach
Andrew molera state park
Drive through the California coast
See Carmel Valley
Gibson beach
See Purple Sand Beach
Burns state park
Moss landing
Find new marine animals
FAQ
When is it best time to visit Monterey, California?
The best time to visit Monterey, CA depends on your personal preferences and the activities you plan to do. The summer months of June through August tend to be the warmest, with temperatures ranging from the mid-60s to the mid-70s. This is also the peak tourist season and the busiest time of year. The shoulder seasons of spring and fall tend to be less crowded and the weather is still mild. The winter months can be chilly and rainy, but can also be a great time to visit if you're looking for fewer crowds and lower prices
How Far is Monterey to Carmel?
It takes 4.2 miles south to get there.
How far is Carmel to big sur?
Its about 25.5 miles south on Highway 1 and takes about 40 minutes to get there with many parking spots on the side of the highway.
What are the best resturants in Monterey and Carmel?
Monterey:
Old Fisherman's Grotto: This historic seafood restaurant has been a local favorite for more than 80 years.
The Sardine Factory: This elegant restaurant offers a variety of seafood and steak dishes, as well as a wine list featuring local wines.
Pacific's Edge: This restaurant offers panoramic views of the Pacific Ocean and serves a fusion of Californian and Asian cuisine.
Abalonetti Bar & Grill: This seafood restaurant is famous for its cioppino, a fisherman's stew made with fresh seafood.
Carmel:
Aubergine: This contemporary French restaurant is located in L'Auberge Carmel and serves a tasting menu featuring local ingredients.
Il Tegamino: A rustic Italian restaurant that offers a variety of pasta dishes and seafood.
The Forge in the Forest: This restaurant offers a mix of American and Mediterranean cuisine and has a cozy, rustic atmosphere.
Best Hotels in Monterey and Carmel?
Monterey:
Monterey Plaza Hotel & Spa: This waterfront hotel offers panoramic views of the Monterey Bay and features a spa, fitness center, and outdoor pool.
Portola Hotel & Spa at Monterey Bay: This hotel is located in the heart of Monterey and features a spa, fitness center, and outdoor pool.
Spindrift Inn: This hotel is located just steps from the beach and offers comfortable rooms and a continental breakfast.
Carmel:
L'Auberge Carmel: This luxurious hotel is located in a secluded area of Carmel-by-the-Sea and features a spa and beautiful gardens.
Hotel Carmel: This boutique hotel offers a charming, European-style atmosphere and is within walking distance of the beach and downtown Carmel.
Hofsas House Hotel: This family-owned hotel offers cozy rooms and a continental breakfast, and is located within walking distance of the beach and downtown Carmel.
How far is Monterey from San Francisco?
120 miles and takes about 2 1/2 hours.
Are there any festivals or events happening in Monterey and Carmel?
Monterey and Carmel host a variety of events throughout the year such as the Monterey Jazz Festival, the Monterey County Fair, and the Pacific Grove Good Old Days. Check the local events calendar for more information.